About Murphy USA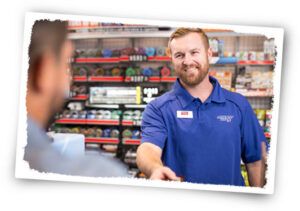 Proudly American owned & operated since 1996, Murphy USA has been the place people go to save on the gas that fuels their lives. From the lowest prices on gas to exclusive deals on your family's favorite snacks and drinks, we're always going the extra mile to help you buy smarter and drive farther.
Murphy USA was founded on the promise of delivering fuel quality that's second to none. Sourced locally, all Murphy USA gasoline and diesel products meet or exceed government regulations and receive rigorous inspections before transport. Our fuels contain cleaning agents to prevent engine buildup and are filtered at the pump to stop potential contaminants from entering your vehicle.
Welcome to Murphy USA!
About WEX
Murphy USA's fleet card partner is WEX Inc., a leading provider of corporate payment solutions. From its roots in fleet card payments beginning in 1983, WEX has expanded the scope of its business into a multi-channel provider of corporate payment solutions representing approximately 10 million vehicles, and offering exceptional payment security and control across a wide spectrum of business sectors. For more information, visit www.wexinc.com.